products :: multimedia :: dvd ::
East Meets West
East Meets West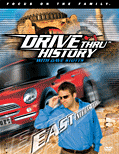 List Price:
19.99
ISBN:
978-1-58997-278-0
Trim Size:
Binding:
Video (1 DVD)
Case Qty:
30
Release:
July 2006
It's another three full episodes of fascinating historical content and exotic footage from Turkey (the "other Holy Land") with connections to the history in our Bibles. You'll have a front-row seat as you explore the mysterious Turkish region of Cappadocia and the underground cave city once occupied by the early church. See why Istanbul was one of the most pivotal cities in world history. Investigate the rise of Islam and the impact of Emperor Constantine, and witness the powerful influence of early Christianity.

Then join Dave as he travels back home to Washington, D.C., to explore how America was influenced by the foundations of western civilization laid by the ancient Greeks, Romans, and early Christians. History and the Bible will come alive all over again!